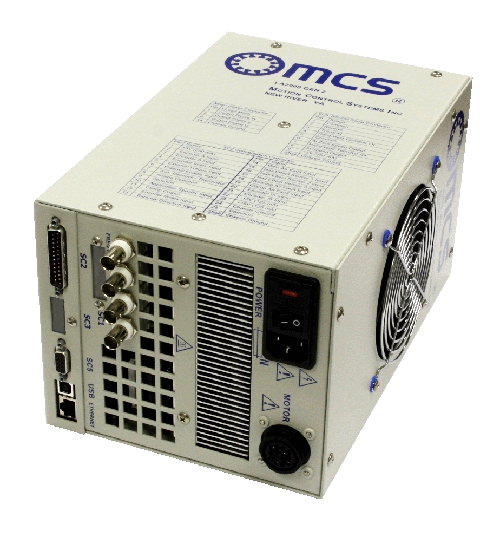 The LA2000 Generation 2 is the newest and most flexible linear brushless motor controller available from MCS. The GEN2 features an ultra-quiet linear power stage, built-in linear power supplies, and a variety of control modes ranging from the ultra-stable frequency-lock-loop to a simple analog torque control interface.

The GEN 2 provides significant performance upgrades and connectivity options, compared to its predecessors and competitors, such as USB and ethernet. These enhancements will facilitate the next generation of high performance media testers, among numerous other precision applications. The GEN2 can be operated stand-alone via analog or TTL commands, operated with a host PC, or a combination of the two, as the application requires.

Use of improved air cooling, current and temperature monitoring and protection circuitry, and an efficient linear power supply allow a continuous current rating of 8A peak sinewave and an intermittent current rating of 15A peak sinewave. Diagnostic features include motor speed, motor current, direction, fault status, and amplifier temperature measurement. In addition, the GEN2 provides several user interlocks, reducing circuitry required in the host system. Virtually any encoder and motor pole count combination is supported. The controller can be panel mounted using the provided threaded inserts or an optional mounting flange. Other application-specific options are available, contact MCS with your needs and we will provide a solution.


LA2000 Gen 2 Features
Control Methods

Frequency-Lock-Loop using internal synthesizer
Frequency-Lock-Loop using external frequency reference
Analog torque control
Analog velocity control
Sine / Sine+120 control
Position loop control and position capture input



Communication Interfaces


Commutation types:

Encoder + Hall effects - Provides smooth sinusoidal commutation without an encoder initialization routine. Encoders can be single-ended TTL/CMOS or differential (RS-485). Analog (sinewave) encoders can be used as well with a factory installed option. An index pulse is not needed with Hall effects.
Encoder only
Hall effect only - Low-cost trapezoidal commutation can be used for analog torque or analog velocity control.
Sine / Sine+120 - Commutation is performed externally and the motor controller is provided directly with current requests.



User updatable firmware
Diagnostics - include motor speed, motor current, direction, fault status, and amplifier temperature measurement
Backward compatible with LA2000 Model 62
Optional braking resistors to brake spindle after loss of power
Specifications
| Amplifier Performance | LA 2000 Gen 2 |
| --- | --- |
| Input Voltage | 115/230 VAC standard, user configurable. 100/200 VAC optional. |
| Output Current | 15A peak, 8A continuous (peak-of-sinewave) |
| DC Bus voltage | 75V nominal (at continuous 8A current rating) |
| Bandwidth (current loop) | At least 10 kHz (typical configurations) |
| Speed range | 0-50k RPM (motor/encoder dependent) |
| Speed regulation | < 0.0001 % (motor/encoder dependent) |
| Encoder Outputs | Optional 50 ohm BNC connectors for A, B, and I or available on optional 20 pin ribbon connector |
| Frequency Input | Optional 50 ohm BNC connector or available on optional 20 pin ribbon connector |
| Maximum input frequency | 7 MHz |
| Dimensions | 7.25" x 11" x 6.25" without optional mounting flange |
| Approvals | cTUVus Approved (115/230V standard configurations) |
---
Home | About MCS | Contact Us
© 2014 Motion Control Systems Inc.
CSS Menu by OpenCube